It's still a buyer's market for luxury London property but prices are falling at a slower pace.
Coutts London Prime Property Index | Q2 2018
It's still a buyer's market for luxury London property but prices are falling at a slower pace.
The latest London prime property trends, how high-end house prices are doing in your part of the capital and the most popular parts of the UK for a holiday home.
Annual fall in prime sales volumes -16.9%
Average discount between asking price and sale price on London prime property -11.3%
Annual drop in London prime property prices -1.7%
OVERVIEW
LOW PRICES AND HIGH DISCOUNTS GOOD NEWS FOR BUYERS
Half of London property worth £1 million or more is being sold at a discount with buyers getting a little over 11% off on average.
Prices continue to fall too, albeit at a slowing pace. They fell 0.3% in the three months to June compared to a 3% drop in the first quarter of the year. They are now 1.7% lower than a year ago and 14% below their peak in 2014.
Falling prices have boosted recent activity in the market. Sales volumes for prime London property increased 16% in the three months to the end of June despite falling by 17% since the same time last year. The number of properties under offer also rose by 11% in the most recent quarter – a sign of even more sales to come. But the amount of London prime property changing hands is still a long way off what it used to be – as little as half what it was in 2013.
While we're seeing high discounts generally, it's a slightly different story for 'best in class' properties where competition remains fierce. Sales are often going to sealed bids for such properties and some are even setting new records.

THE MARKET REMAINS SUBDUED
Current conditions may be beneficial for buyers but Coutts Managing Director Mohammad Kamal Syed says that, even though the market is still falling, there are some signs it could be levelling out.
"Prices are falling more slowly and we expect them to remain relatively flat for the rest of 2018," he says. "The average discount buyers are getting has also dropped slightly since the first quarter which is another sign that things could be changing.
"While London's prime property scene remains good for buyers with a long-term investment horizon, the market is still very subdued as many sellers wait for Brexit uncertainty to pass."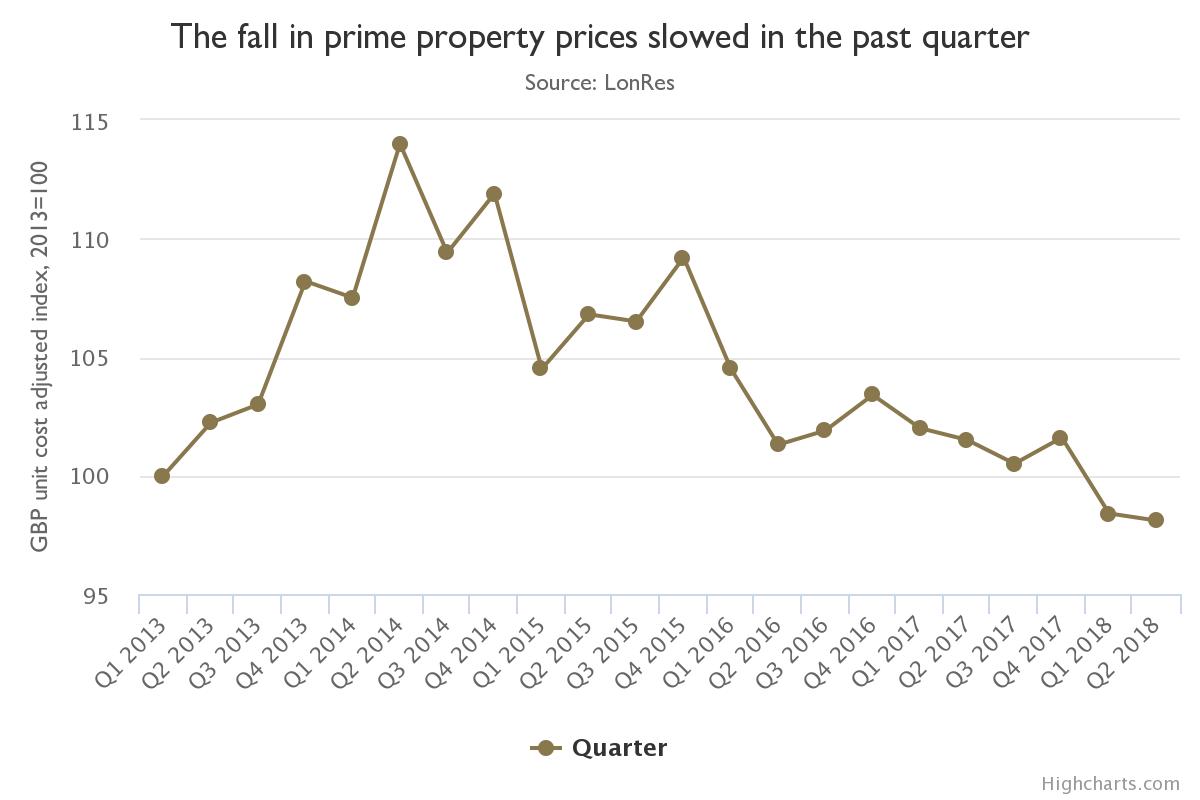 The super prime market – properties worth £10 million or more – is behaving differently. Prices in this bracket have seen a slight increase and are now up 2.2% compared to the same period last year. The average price per square foot is now £2,658.
HOLIDAY HOMES
We've compiled the top 10 holiday home locations based on where our clients have bought over the past two years.
It shows the South West as the star of the 'staycation' as it features on the list four times, while Edinburgh City Centre is one of the most profitable with house prices shooting up 12% in 12 months*.
Here are the most popular areas for holiday homes in the UK outside the capital:
1. Central and West Cornwall
Postcode area: Truro (TR)
2. Oxfordshire and the Cotswolds
Postcode area: Oxford (OX)
3. South Devon
Postcode area: Torquay (TQ)
4. West Surrey, North East Hampshire and West Sussex
Postcode area: Guildford (GU)
5. East Dorset and South West Hampshire
Postcode area: Bournemouth (BH)
6. King's Lynn and surrounding villages, Norfolk
Postcode area: Peterborough (PE)
7. Edinburgh New Town and West End
Postcode area: Edinburgh (EH)
8. West Sussex, Hampshire and the Isle of Wight
Postcode area: Portsmouth (PO)
9. Windsor, Ascot and Maidenhead
Postcode area: Slough (SL)
10. Padstow and Cornwall's north coast
Postcode area: Plymouth (PL)
HOW TO FIND THE PERFECT HOLIDAY HOME
A weekend bolt hole for your immediate family. A place for you to share with your extended family and friends. A property that's a business opportunity as well as a place for you to get away from it all.
Deciding what you want from a holiday home is the first step to finding a place that will be the setting for treasured memories for years to come.
LOCAL TRENDS
A MIXED BAG FOR DISCOUNTS ACROSS THE CAPITAL
The latest numbers show a mixed picture when it comes to getting a good discount on a luxury property in London. For example, two-thirds of luxury properties in Hampstead & Highgate are sold below asking price – 13% off on average – while under a third are getting a discount in Wimbledon, Richmond, Putney & Barnes. In that part of south west London, the average amount off the asking price is 7.1%.
Property in Wimbledon and its surrounding areas is on the market for 35% less time than Hampstead & Highgate on average, showing that the market there is currently more buoyant.
Coutts Head of Lending Propositions George Toumbev says this is just one example of some significant differences between the capital's prime property areas.
He says, "The numbers tell very different stories across the 15 parts of London covered by our index. Another example is that house prices in Fulham & Earl's Court are at almost 20% less than their 2014 peaks while St John's Wood, Regent's Park & Primrose Hill properties sell for close to record levels.
"There are even very different trends in areas right next to each other, reflecting the sheer dynamism of the capital and the fact that any given area very much has its own sense of identity. This underlines the importance of doing your research and really getting to know the market in the neighbourhood you're interested in."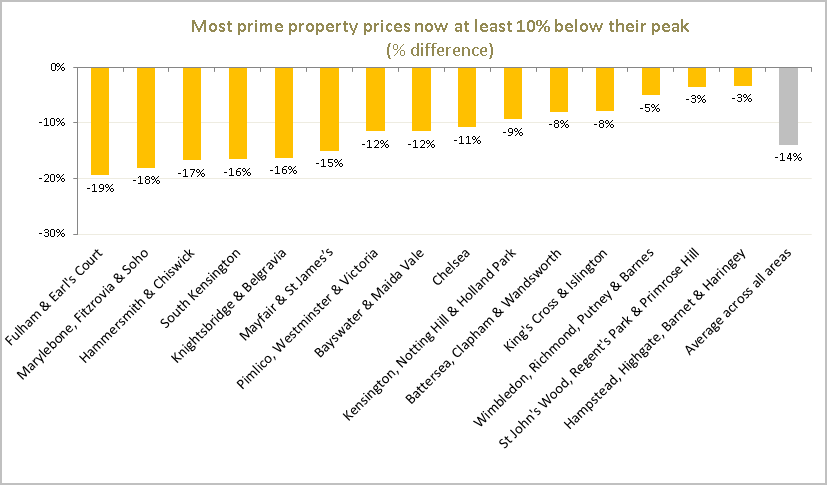 GOT IT MADE IN CHELSEA
The most popular area this quarter for buying at the top end of the market – £10 million or more – is Chelsea, closely followed by Kensington, Notting Hill & Holland Park. Prices in Chelsea had been relatively stable since late 2016 but have now increased 5% compared to last year.
Families looking for somewhere within reach of Chelsea could find deals in neighboring Fulham & Earl's Court, where the average price for prime properties is almost £750 per square foot cheaper. We haven't seen that kind of price difference between two prime London areas since 2013.

MAYFAIR & ST JAMES'S CONTINUE TO SOAR
Other key local trends include:
Mayfair & St James's showing positive momentum year-on-year with prices up 14% and sales volumes up 21%
activity slowing in Marylebone, Fitzrovia & Soho, with prime sales volumes falling 23% compared to the same time last year, and annual price growth dropping 9%
buyers in Pimlico, Westminster & Victoria seeing the biggest discounts at over 14% on average
KEY TAKEAWAYS
Falling prices and high discounts mean luxury London property is currently a buyer's market and it remains subdued. Outside London, the South West is the most popular place to buy a UK holiday home according to our research, featuring in our top 10 list four times.
The data-rich Coutts London Prime Property Index is one of the many tools at our disposal to help you find and buy your home – others include tailor-made mortgages and access to the UK's best buying agents.