Leipzig wins European City of the Year at 2019 Urbanism Awards
Leipzig has been named European City of the Year at the 2019 Urbanism Awards. The German city fought off strong competition from fellow finalists Nantes and Zurich during a summer of assessment visits and subsequent vote by The Academy of Urbanism. Theresa Kodritsch, a representative of the Department of Urbanism and Construction for City of Leipzig, collected the award which she dedicated to the people of Leipzig.
The award is one of five given out each year by The Academy of Urbanism, a network of built environment experts from across Europe. They recognise Britain and Ireland's best place, street, neighbourhood and town, as well as Europe's best city. Voted on by its members, the Academy judges against a number of social, economic and environmental factors, including good governance and commercial success.
The theme of this year's Urbanism Awards is 'post-industrial' – recognising examples that have transformed themselves into thriving places after suffering from the decline of their predominant industry.
David Rudlin AoU, chair of the Academy, said "Leipzig is the sort of city that urbanists dream of; lively streets, sustainable, a fantastic tram system and lots of creative people. Its easy to forget how not long ago the city was run down after the loss of its industry and how dramatic its regeneration has been."
2019 Urbanism Awards finalists (winners are asterisked):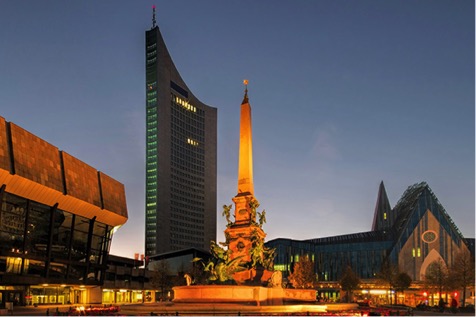 EUROPEAN CITY OF THE YEAR
Leipzig, Germany*
Nantes, France
Zurich, Switzerland
THE GREAT TOWN AWARD
Barnsley, South Yorkshire
Chelmsford, Essex
Paisley, Renfrewshire*
THE GREAT NEIGHBOURHOOD AWARD
Ancoats, Manchester, England
Hackney Wick, London, England
Kelham Island, Sheffield, England*
THE GREAT STREET AWARD
Argyle Street, Glasgow, Scotland
Kirkgate, Leeds, England
South William Street, Dublin, Ireland*
THE GREAT PLACE AWARD
Granary Square, London, England*
Kilmainham Civic Space, Dublin, England
Maritime Quarter, Swansea, Wales
The process
The Awards are open for nominations from anybody. The Academy shortlists 50 places across five categories, which are voted down to three finalists in each category by Academy members. The Academy then visits and assesses each of the 15 finalists before the final vote.
For more information about the Academy, visit: www.academyofurbanism.org.uk.